If you're considering making a move into a retirement community, know that you're not alone. Many Americans are reaching retirement age and choosing to live in independent and assisted living communities.
If you're starting to think about senior living options, it's essential to do in-depth research on where you'd like to live. Depending on where you live, there may be a large variety of communities and facilities available.
Your options will depend on varying care needs, and your decision will be a personal one. When you find a few specific places that meet your needs and criteria, you'll want to get your name on their waitings lists.
How Long Will I Wait?
The amount of time spent on the waiting list for a senior living community depends on many factors, such as:
Unit availability
Your preferences
Date of application
Medical needs
Based on these factors, it can be challenging to estimate individual wait times. Depending on the facility, the potential residents can wait a few months to several years. Most units are offered on a first-come, first-served basis to those on the waiting list.
The Right Timing
At The Lodge at Historic Lewes, we recommend planning ahead and looking into your preferred senior living communities as soon as possible. Remember:
Research: Educate yourself about the senior living options in your area and plan based on your current and future care needs.
Understand: Make sure you know the policies, read contracts carefully, and have a firm understanding of the fees.
Tour: Take a tour of your chosen facilities, and see which community feels right for you.
Ask: Leave no stone unturned! Ask questions about each community, their contracts, waiting list policies, and refunds.
Consider placing yourself on the waiting list of your preferred facility in advance. When the time comes for long-term care or assisted living, you'll be closer to the top of the list!
How Waiting Lists Work
Odds are, the community of your choice will ask for a deposit before adding your name to the waiting list. The deposit amount can range from a few hundred dollars to a few thousand, depending on the facility.
Be sure to enquire about the waiting list refund policy before providing your deposit. Some communities will offer deposit refunds if you decide to postpone your move, or choose a different facility.
A large number of communities will only offer deposit refunds if the potential resident declines due to healthcare reasons, and many facilities won't offer refunds at all.
When adding your name to a senior living community's waiting list, you may be required to specify which type of unit you'd like. Depending on your chosen community, options could include:
Patio homes
1 or 2-bedroom apartments
Townhomes
Single occupancy rooms
Shared accommodations
The community will be in touch when you've reached the top of the waiting list, and one of your chosen types of units becomes available.
It's vital to remember that every community has different rules surrounding waiting lists and deposits; ask questions and ensure you clearly understand their policies.
Remember to ask:
The deposit amount
If the deposit is refundable
The typical amount of time spent on the waiting list
What happens if you decline a unit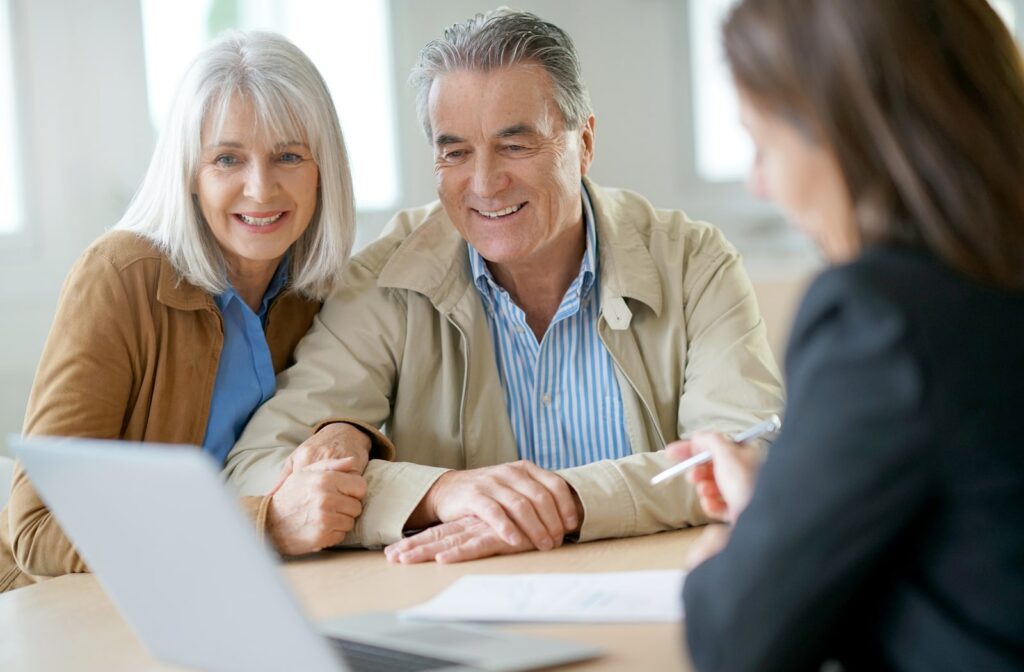 Build Relationships
Some retirement communities offer perks to their future residents, like access to facilities, community events, and activities. Take advantage of these benefits!
Spending time in your chosen community will help you get to know the facilities, build relationships with staff, and meet future neighbours.
Having an idea of the community's layout and a rapport with management can help increase your comfort and ease the transition when moving day comes.
So Now What?
You've made it on the waiting list; what comes next?
Take a deep breath: You've just made a significant decision, and you'll want to give yourself some time to relax and plan for the future.
Get organized: Look around your current home and consider re-organizing your belongings and de-cluttering in advance to make your move a little bit easier.
Plan: Consider your savings and assets, your current and future health needs, and the needs of your family.
Planning For The Future
Your time on the waiting list for a senior living community depends on several factors. More established or high-demand communities may have longer wait times, so it's a good idea to have more than one option.
Adding your name to your preferred facility's waiting list is an essential step towards planning for you and your family's future.
Contact our friendly and compassionate team at The Lodge at Historic Lewes if you have questions about senior living wait times or policies surrounding waitlists.
If you're considering senior living communities, we invite you to discover everything our facility has to offer. Our Lodge is currently under construction, but our family is growing. We are now accepting deposits through a fully-refundable, risk-free program.
We'd love for you to join our vibrant community!