What's Great About the Great Outdoors?
We've all heard about the great outdoors. But what makes it great? Are there benefits to taking in the sights and sounds of nature?
The Lodge at Historic Lewes supports its community as a place to thrive, and the great outdoors is an amenity that can't be skipped. Although our indoor facilities are the best-in-class for retirement living in Coastal Delaware, we also created our community to meet the needs of active seniors—including access to the beautiful outdoors.
If you're curious about how senior living and the benefits of nature mix, read on to learn more about why the great outdoors should be a part of your lifestyle.
How Can Park Prescriptions Help?
A park prescription isn't medication but a colloquialism for spending time in green spaces, like parks. It's a trend that some doctors are recommending to reduce stress levels. Although short-term stress is normal, high-stress levels can have adverse effects.
Chronic stress can lead to mental and physical health problems, including heart disease, digestive diseases, memory impairment, skin conditions, depression, and insomnia. Stress plays a role in every bodily system, from your immune system to your digestive system. Therefore, reducing chronic stress is crucial to supporting your overall health.
A daily dose of nature's green is an opportunity to reduce stress. So whether you enjoy the view on your own or join a group activity, prescribe yourself some time to dwell in nature.
Memory Boosted by Nature
Nature can improve our cognitive function. It turns out you don't even need to go outside—even viewing images of nature can help improve memory and attention. In addition, staying physically active, reducing stress, and socially connecting are crucial factors in preserving cognitive health in older adults.
There are significant health benefits for seniors who include nature in their lifestyle. Studies suggest that exercising outdoors encourages seniors to stay active longer, enjoy physical activity more, and find more social opportunities.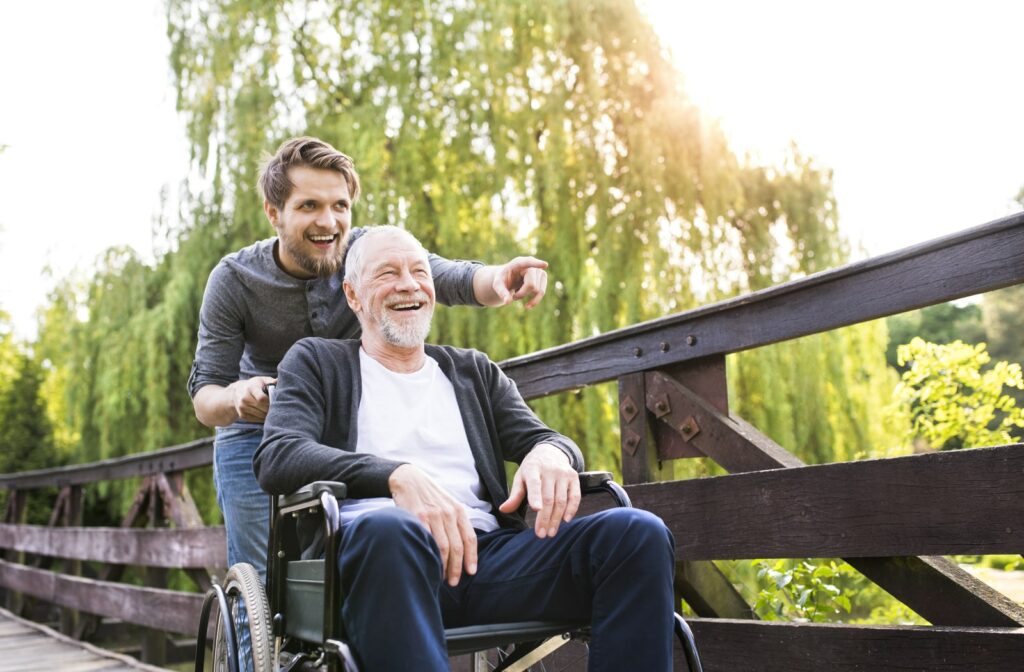 What Is Forest Bathing?
The practice of forest bathing or forest therapy (or shinrin-yoku) is a form of therapeutic meditation where the aim is to bask in nature. Rather than expecting an activity, forest bathing is about connecting to nature through the five senses—sight, scent, sound, touch, and taste.
However, you can personalize your forest bathing experience. If you connect better while bird watching, sipping tea, meditating, or Nordic walking, go for it! It doesn't have to be a forest either. If you prefer water views over trees, you might watch beach waves or listen to rainfall.
The results of multiple forest therapy studies have shown that forest bathing can benefit mental and physical health, from reducing blood pressure to improving relaxation.
Enjoying nature is also helpful for those experiencing cabin fever or social isolation. If you're feeling lonely or irritated, a walk in the woods can help boost mood and cognitive function.
How Much Nature Is Enough?
You've probably heard the phrase "quality over quantity." When spending time with nature, you don't need to plan for endurance-testing hikes or spend a week sleeping under the stars. If spending more time outside makes you happy, then spend more time. However, you find the same benefits on a short walk as an immersive outdoor adventure.
A 2019 study found that committing to 2 hours of nature time had the most significant benefits. The study also considered adults who spent an hour a week or more than 2 hours a week with outdoor recreation. The study observed the most remarkable boost to mental health with 2 hours weekly.
Notably, 2 hours or 120 minutes isn't far off from guidelines for physical activity, which is 150 minutes or 2 hours and 30 minutes every week.
You don't need to spend your 120 minutes all in one day. For example, you can split your minutes across the week with 30 minutes daily if you're aiming for physical activity guidelines.
Try scheduling a daily outdoor activity, like walking to add steps to your pedometer, inviting someone for a mild game of golf, or growing herbs in a garden.
The Benefits of Spending Time Outside
What makes the great outdoors so great are the many health benefits. The good news is that you can enjoy nature your way and at your own pace. Whether you're hiking at the park, strolling on the boardwalk, or having a picnic on the beach, you decide how to spend time outside.