Benefits of Moving Into an Independent Living Community for Seniors
When it's time to transition into a new stage of life, independent living senior communities can be a great option. With the evolution of senior housing, senior living communities are more committed than ever to ensure you or your loved ones have the best experience possible.
Let's look at what independent living is, including the benefits of moving into an independent living senior community, some amenities, and the lifestyle changes you can expect.
What Is Independent Living?
Independent living is all about personalization and customizing your experience. With the independent living lifestyle, you'll be able to focus on your free time. This newfound time includes getting into new hobbies, expanding your social circle, and relaxing rather than focusing on the monotonous chores and maintenance that come with homeownership.
Big housing and lifestyle changes can make it seem like you're losing your independence later in life. Independent living is all about making your life easier.
Some factors to consider if you're considering independent living:
Has maintaining your current home become an issue?
How difficult is it to get around in your current community?
How is your health, and would a move to an independent living senior community benefit you?
Your comfort is essential, and your new senior living community should reflect that and strive to make you comfortable with your surroundings.
Adjusting to Your New Environment
When considering independent living, the community is an important factor. Surrounding yourself with a comfortable situation and approaching it with an open mind can make the adjustment easier. More often than not, your community will consist of people familiar with where you are in life.
The transition to independent living can be an adjustment. Getting used to your new surroundings can take time, which is completely normal. Proper guidance and assistance from dedicated staff will help ensure a smooth transition.
Comfort is key wherever you decide to live, and independent living senior communities are no exception. Knowing what you want and the ability for customization is a big part of independent living. Your space can truly be yours.
Now that you know what independent living is, let's look at some of the benefits of moving into an independent living senior community.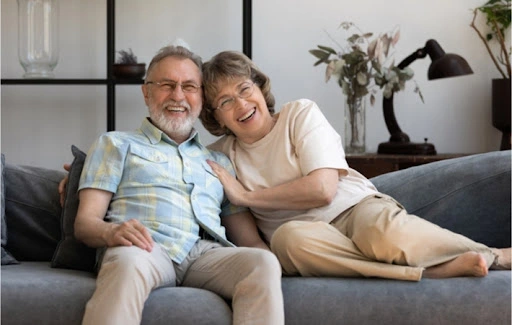 The Benefits of Independent Living
The freedom of choice that comes with choosing an independent living lifestyle means spending time on activities and hobbies that you enjoy.
Home design is essential to independent living, especially as you age—you want to live in a safe environment that allows for more effortless movement within the home.
In your new independent living home, you can expect:
Spacious, well-planned layouts
The finest finishes
Safer designs to prevent falls
Roomy closets
Larger windows to let some natural light in
Your independent living apartment will be your own, and you'll feel right at home while you expand your social circle and meet your friends within the community daily.
The social opportunities available to you are a vital part of moving into an independent living senior community. Some amenities you can look forward to in your new community include:
Group activities and outing
A fitness center to help stay active
A relaxing spa
A salon for your convenience
Along with these amenities, you can also look forward to your maintenance and chores being taken care of.
Some services you'll experience include:
Weekly housekeeping
Linen service
Maintenance on-site
Dedicated management team to tend to your needs
Taking advantage of all these amenities and services provided to you can maximize your independent living experience.
Every independent living community is different, and its amenities and activities differ as well. They're often catered to match the lifestyles of their residents. Your community operates and adapts with you in mind.
Finding the Right Community
The transition to a new stage of life is complicated, but independent living can make it easier by preserving your independence. You'll be able to focus on the hobbies and activities you value in a community of your peers. Get in contact with professionals today to learn more about independent living senior communities and if they're right for you or your loved ones.