When to Move from Assisted Living to Memory Care
Many senior living communities offer multiple levels of care to meet each resident's needs. Most of the time, these include independent living, assisted living, memory care, and respite care. Residents in assisted living and memory care communities usually require more assistance to live independently.
Someone in assisted living may have experienced an injury, or their overall health may require more assistance. In some cases, a person living in assisted living may need to transfer to memory care should they develop severe memory loss conditions like Alzheimer's disease and dementia.
It's vital to understand the differences between assisted living and memory care, how each can provide necessary, personalized care options for your loved one, and what signs to look for when deciding to move from assisted living to memory care.
What is Assisted Living?
Assisted living offers a more specialized level of care than independent living, where residents have minimal care requirements. Community members in assisted living are more likely to need help with daily tasks such as:
Grooming
Cleaning
Cooking
Dressing
Exercising
Staff in assisted living communities also help residents manage their medications and keep their overall health on track. As opposed to independent living, staff members in assisted living can provide care 24/7.
Each resident's level of care is individually determined since their conditions vary so greatly. One resident may need more assistance moving around from place to place, while others may have more trouble managing medication or need more assistance with specific medical conditions.
Apartments in assisted living include safety features like bathroom safety handles and other fall reduction tools. Plus, many apartments come fully furnished with the option to personalize the space to ensure residents feel like they're at home.
Assisted living communities also include specific features and programs such as organized social activities to keep them engaged and interested while integrating with their new community. Rehabilitation services, including physical and speech therapy, help ensure residents can participate in everything their community has to offer.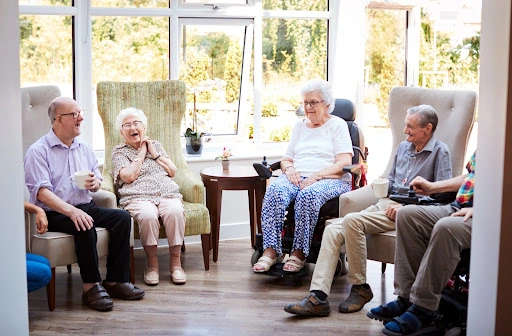 What is Memory Care?
Memory care is similar to assisted living; however, it is highly specialized for those living with memory loss conditions like Alzheimer's disease and other dementias. People with Alzheimer's and dementia have distinct needs when it comes to care, mental stimulation, and safety.
Similar to assisted living, memory care communities provide an individualized care approach. The reality is no two people have the same memory loss condition. Yes, two people may have Alzheimer's disease, but the way their condition presents can be completely different. That's why staff in memory care are trained to match each individual person's needs.
There are; however, some basic principles followed in memory care communities to make life easier for residents.
Color Psychology
Color psychology follows the philosophy that color can influence behavior in people with Alzheimer's and dementia. For example, red and yellow plates can stimulate a person's appetite and encourage them to eat.
Directional Guides
Directional guides like signs, unique landmarks, and differences in color help residents navigate the community with more independence. With directional guides, residents in memory care can confidently go about their day with a reduced risk of getting lost.
Light Therapy
Our bodies follow a natural rhythm following the sun's rising and setting. Light therapy mimics daylight, helping residents sleep better and maintain motivation to participate in daily activities fully. Light therapy can also help with residents' moods and increase their levels of attentiveness.
When is it Time to Move?
Over time, residents in assisted living may develop Alzheimer's disease and dementia symptoms. While they may have entered assisted living without any symptoms, it's essential they get the specialized assistance offered in memory care when they do show themselves.
Some signs your loved one may be developing Alzheimer's or dementia include:
Getting lost frequently
Increased forgetfulness
Distrust or aggression
Declining hygiene
Poor eating habits
Increased isolation
When your loved one shows these signs, it's crucial to get in contact with your senior living community and discuss what options are available for them to move into memory care.
How We Can Help
The Lodge at Historic Lewes is committed to providing high levels of quality care while maintaining your loved one's dignity and respect. Whether it's independent living, assisted living, memory care, or respite care, residents at every level are well taken care of. Our staff are highly trained to provide specialized care.
If assisted living or memory care is the right option for your loved one, contact us today and book a tour to find out more.