Choosing the Right Level of Care
If you're thinking about making a transition to a retirement community, how do you determine the right level of care for your needs? Should you consider independent living or assisted living?
The average age in a retirement community is 84 years old, but age does not necessarily determine the required level of care. Every person is unique, with an entirely different set of wants and needs, and there are a few factors to consider.
While researching options, it's essential to have a clear understanding of your care needs. You may also consider a senior needs assessment to help determine the correct level of care for your current circumstances.
In a retirement community, residents with different levels of independence often co-exist and share the same social spaces and activities. Seniors enjoy a vibrant lifestyle with varying levels of support and social activities. No matter your level of care, fun is always on the menu.
Independent Living
Independent living is an excellent choice for seniors who want to live in a fun community surrounded by like-minded individuals at the same stage of life.
If you have minimal care requirements, independent living may be the perfect fit. Different communities may have varying definitions of independence, but at The Lodge at Historic Lewes, independent living is for older adults who:
Want to continue being independent, but prefer the option of a "worry-free" lifestyle.
Enjoy living in a community of older adults in a similar stage of life.
Want freedom from the hassles of homeownership, like maintenance, repairs, raking leaves, and shovelling snow.
Enjoy curated activities and attend community events.
Are interested in being more social.
Can eat, dress, bathe, move (with or without assistive devices), toilet, and take medications with minimal or no assistance.
Can act independently in an emergency.
Accommodations may differ at other facilities, but our independent living apartments feature a balcony or patio, full kitchens, washers, and dryers.
Most independent living communities offer housekeeping services and access to a wide variety of curated amenities on-site. Every community is unique, and its amenities and activities are often catered to match the lifestyle of its residents.
Amenities at an independent living community can include:
Dining options
Cafés with snacks and refreshments
Pubs and lounges
Social opportunities like happy hours, gatherings, book clubs, and debates
Media rooms
Computer labs
Libraries
Arts and crafts areas
Day spas
Fitness centers
Chapels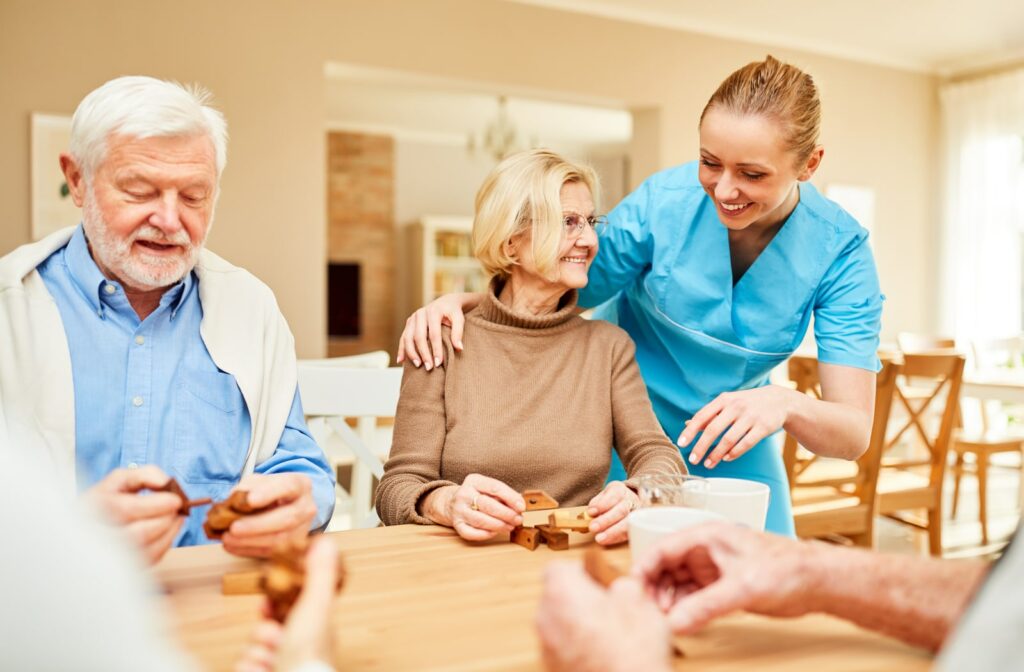 Assisted Living
Older adults who need a little more support in their daily lives may find the right balance of care and independence in assisted living. Assisted living communities can provide a higher quality of life for those who have difficulties managing the activities of daily living (ADLs).
At The Lodge at Historic Lewes, our assisted living community is for residents requiring higher levels of care, needing additional assistance with regular daily activities, like:
Getting dressed and undressed
Bathing and hygiene
Cooking and diet
Housekeeping and home maintenance
Personal safety
Health and wellness
Mobility
Being social
In most assisted living communities, specially-trained licensed nurses and certified nurse aides are available 24/7 to provide residents with individualized care, along with a team of caregivers to provide support and assisted living services.
Services are often adjusted to match community members' varying levels of care.
Residents in assisted living receive personalized help in areas like:
Medication management
Walking or moving from one place to another
Bathing, dressing, and toileting
Successfully managing the day
Monitoring more complex medical conditions
The fun never stops in assisted living. Residents typically have access to scheduled meals, activities, social hours and outings, and a wide range of on-site amenities catered to older adults.
Amenities in an assisted living community will closely match those of an independent living community, and may often include:
Dining options
Cafés with snacks and refreshments
Pubs and lounges
Social opportunities like happy hours, gatherings, book clubs, and debates
Media rooms
Computer labs
Libraries
Arts and crafts areas
Day spas
Fitness centers
Chapels
Assisted living accommodations often vary by facility. Our assisted living apartments at The Lodge at Historic Lewes feature private baths and kitchenettes in a sleek, upscale design.
What Works Best for You?
By having a more in-depth understanding of the difference between independent and assisted living, you'll be able to properly assess your or your loved one's care needs and decide on the best options to ensure the highest quality of life.
Determining the right level of care can be daunting, but support is available to help you make the right decision. At The Lodge at Historic Lewes, we strive to ensure our residents find the perfect balance of care, healthy living, and overall well-being.
We're Here to Help
If you're still unsure about the differences between independent and assisted living and wonder which level of care works best for your situation, contact our team at The Lodge at Historic Lewes.
High-quality care and compassion are two of our main priorities, and we would be delighted to provide you with guidance and more information. We are genuinely committed to our community members and their families.
Whenever you need us, we'll be available to provide answers, support, and help you determine the next steps.