Caring for an elderly loved one, like a parent or a grandparent, is a significant commitment. And as they age, the responsibility becomes larger, taking up more of your time, energy, and resources. Eventually, there can come a time when you and your family will need to decide on what kind of care is best for your loved one, but this conversation may be more difficult in some families than others.
Today, we want to explore what this conversation might look like and the possible steps you can take to come to a decision that everyone can agree on, including the elderly person you're caring for.
These conversations are essential for finding proper care for your loved one and can take time. However, if you and your family would like to hear the opinion of a professional senior living caregiver, our staff would love to give you some insight into what may be suitable for each member of your family, including the elderly. You can even visit our "Is It The Right Time for Senior Living" page and fill out our quick survey to see if it might be time to consider professional care.
Contact us today to learn more, or book a tour to see what a senior living community like ours could offer.
Know Your Limitations
If you're your loved one's primary caregiver, you must know where your limitations are. We all care for our elders, but you shouldn't have to feel guilty about reaching a breaking point while taking care of your loved one.
The responsibilities add up over time, and you might find yourself:
Visiting your loved one multiple times a day
Cleaning and tidying around their home
Assisting them with daily living activities
Transporting them to and from appointments and events
If your loved one has an injury or illness, it can make caring for them much more difficult. For example, if your loved one is developing Alzheimer's or dementia, they may be less inclined to cooperate with you because they might not be familiar with you.
If you're a parent yourself, you'll then have to juggle those responsibilities alongside your caregiving duties, and eventually, it might become too difficult to manage it all on your own. At this point, it might be time to have an open, honest conversation with the rest of your family about your loved one and their needs.
How to Bring Up the Conversation
There's no "right" way to start discussing the needs of your loved one with the rest of your family, but there are certainly wrong ways to go about it.
For example, it might not be best to start the discussion:
By blaming other family members for their lack of help.
During other important family events like birthdays or holidays.
By talking negatively about your loved one and the support they need.
By taking control of the conversation and forcing your opinions on others.
In essence, it's best to try and steer away from causing an argument. This conversation should be open and honest, but it should also be a collaborative effort. Each of you wants what's best for your loved one, so take some time to listen to each other to come to a decision you are all comfortable with.
Be Honest About Your Feelings
During the conversation, setting the tone by being as honest as possible is essential.
Share the struggles you might be experiencing as the primary caregiver, and provide insight into your loved one's quality of life. Even if other family members help with caregiving duties, they might not have the complete picture of your loved one's lifestyle. If you have other responsibilities, share the difficulty you might be experiencing.
And remember: you're not abandoning your caregiving responsibilities; you're simply changing your approach to ensure your loved one has the most comfortable life possible.
Consider Your Family's Feelings, Too
Every family is different, including their dynamics. Just because you may feel one way about your loved one doesn't mean other family members will feel the same sentiment.
It's important to listen to your family members' opinions on the matter and consider everyone's ideas when it comes to moving forward. Some may be willing to commit more of their time to help with caregiving, while others might want to consider professional care services to support your loved one.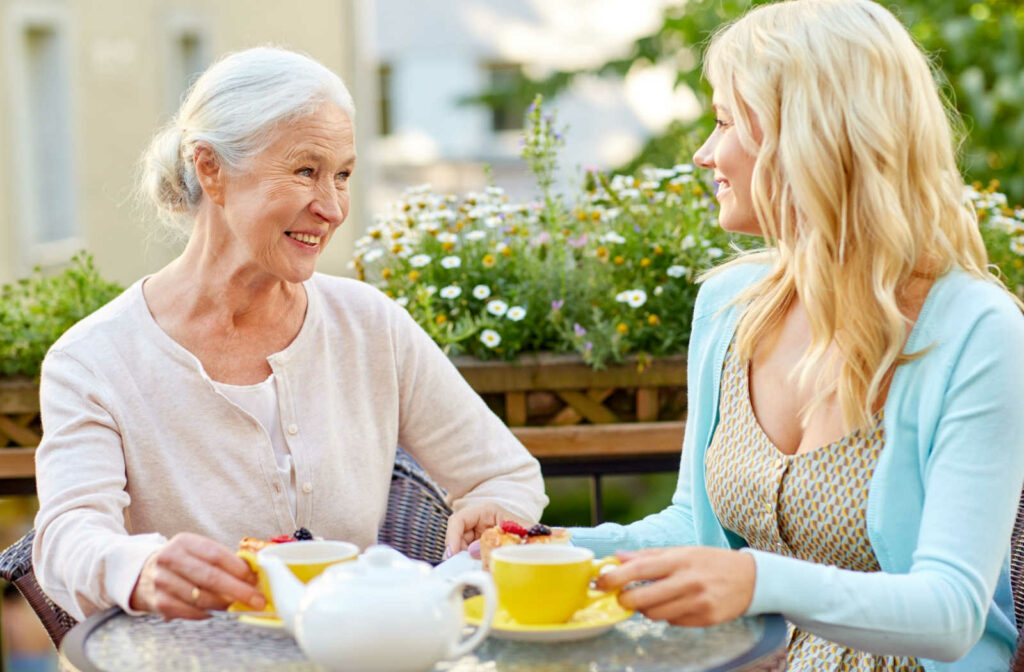 Go Over Your Loved One's Needs
Another important aspect of this conversation is understanding your loved one's needs. Take some time to review the type of care they require and how your family could help provide it. Some of these needs can include:
Housekeeping
Cooking
Eating assistance
Mobility assistance
Toileting assistance
Transportation
Medication management
Online guides and surveys could help illustrate the type of support your loved ones need. Click here to fill out our short survey today.
Deciding What Is Best for Your Loved One
Once you and your family know that your loved one needs support, it's time to decide what kind of care they need. At this point, it's also a great idea to speak with your loved one and get their thoughts on their own caregiving needs.
Some great questions to ask your loved one can include:
What do you need help with from day to day?
What are your thoughts on senior living communities?
Would it be easier to have a professional help you?
What are your deal-breakers regarding senior living?
What can you not live without?
Their answers to these questions can give you plenty of insight into the type of life your loved one wants. From here, you, your loved one, and your family can decide which type of care they could consider.
At-Home Care
At-home care is when your loved one still lives in their own home, but a professional caregiver comes by regularly to provide support wherever they can.
Senior Living Communities
Senior living communities, like The Lodge at Historic Lewes, offer a few different lifestyle options to ensure your loved one gets the support they need. Independent living can provide some support with the more tedious and taxing aspects of daily living. In contrast, assisted living can help your loved one navigate their daily living activities to ensure they're comfortable and happy.
Memory Care
Memory care is specifically designed to support individuals who may be developing cognitive impairments like dementia and Alzheimer's disease. These issues can significantly affect your loved one's quality of life, and professional support can help ensure they're safe and comfortable at all times.
See How We Can Help Today
If you or your family would like to know more about the support we provide and the lifestyles we offer, please reach out to our team today. We would be happy to walk you through our various services so that you and your family can decide what type of care is best for your loved one.Feel free to book a tour with us for an even closer look at our community.